---
Launcher Tunnels
The interconnecting tunnels throughout the complex are essentially very similar. Basically they are all comprised of 5 gauge corrugated steel conduit (a culvert pretty much) with an inner diameter of 9' 6". Technically there are 3 variants in the site: Types A, B, and C.

Type A typically has heavy pipe supports running down one side and 3 or more rows of cable trays down the other. The floor is steel plate with large conduit (fire water, sanitary sewer, etc.) run underneath and wooden runners (3' 4" apart) on either side to keep equipment carts from going astray. Type A tunnels were used for the launcher tunnels and sections between large tunnel junctions in the launcher area.

Type B could have pipe supports and cable trays but the floor of the tunnel is leveled with about 2 feet of concrete instead of steel decking. Type B tunnels were used in the Antenna tunnel.

Type C also carries cables and conduit and has about 1 foot of concrete in the bottom. Type C tunnels were used in the utilities tunnels.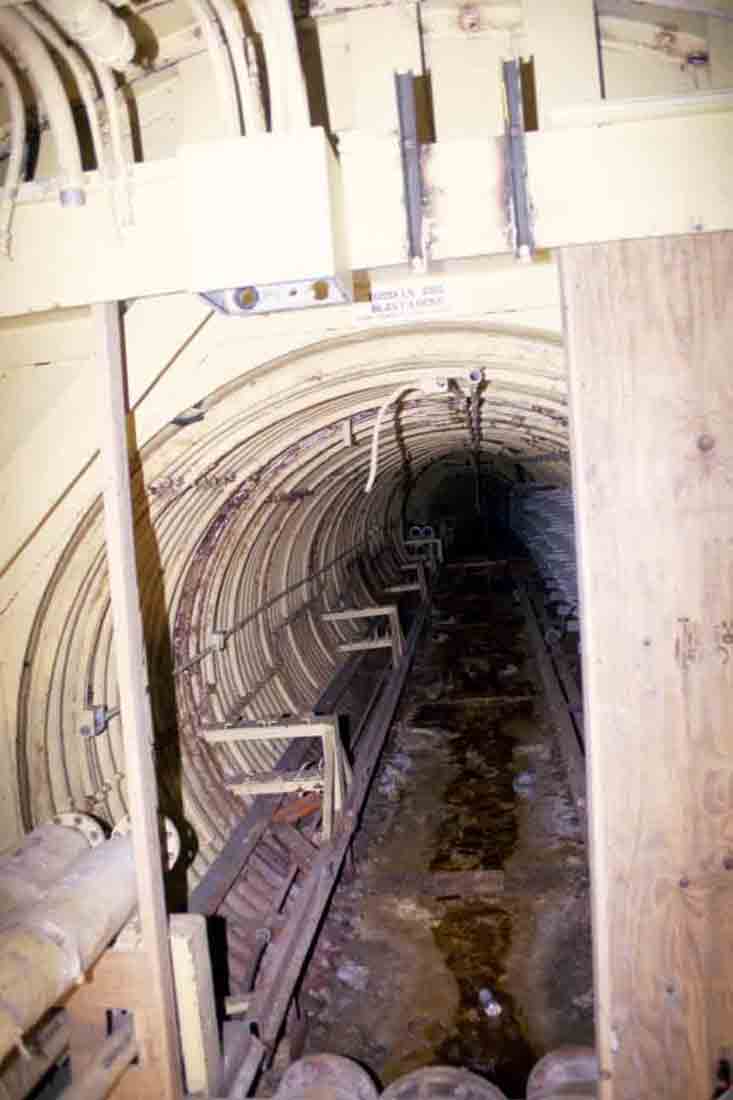 Entrance to the bowels of the complex. Yuck! Above the opening it says: "Tunnels and Blast Locks". This is a Type A tunnel. It was once blocked off by plywood (some of which still remains) and protected by alarms. Clearly maid service has been lapse in this area.
This is definitely a rubber boot zone from here on out. While there are long stretches of dry ground, they are punctuated by nearly unavoidable sloughs of nastiness. Fortunately, the pipe supports provide some high ground that permits safe passage over the majority of the flooded areas.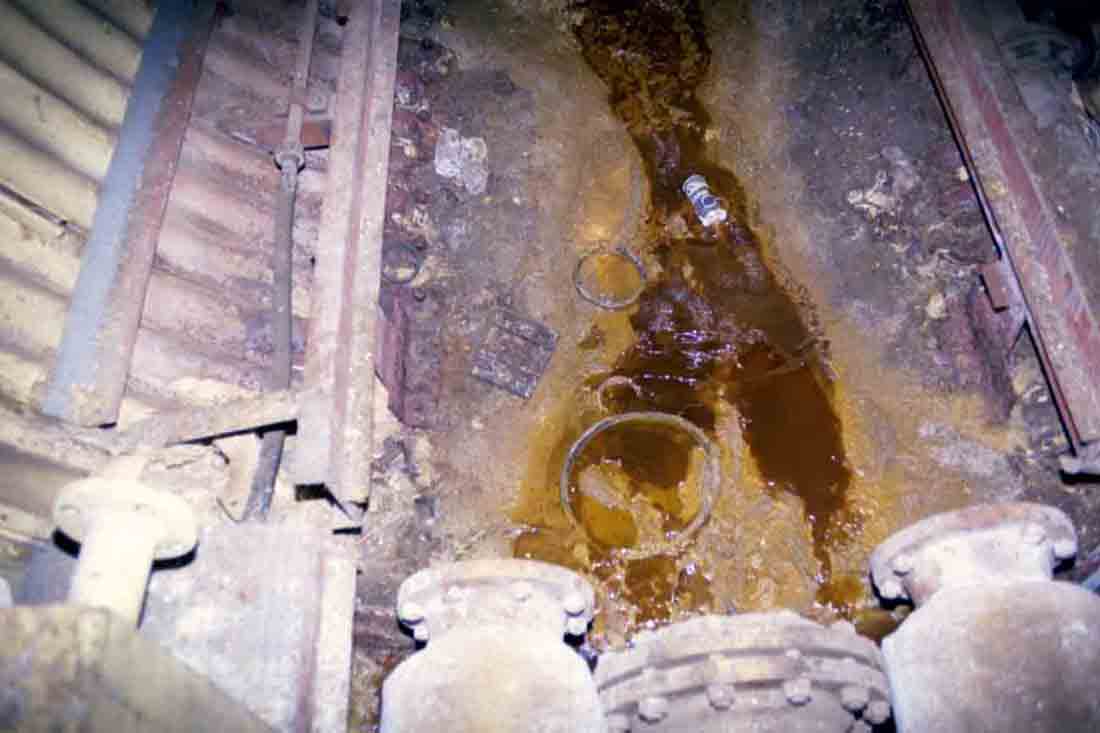 The source of Red Bull! The relative elevation of the tunnels and T.J. #10 are such that water drains towards the main tunnel junction and ultimately the Power house. The large conduit connections for the lines under the (now absent) decking are shown here. The supports for the decking run down either side of the tunnel. Deck plating was particularly popular with salvage contractors and often very little was left behind.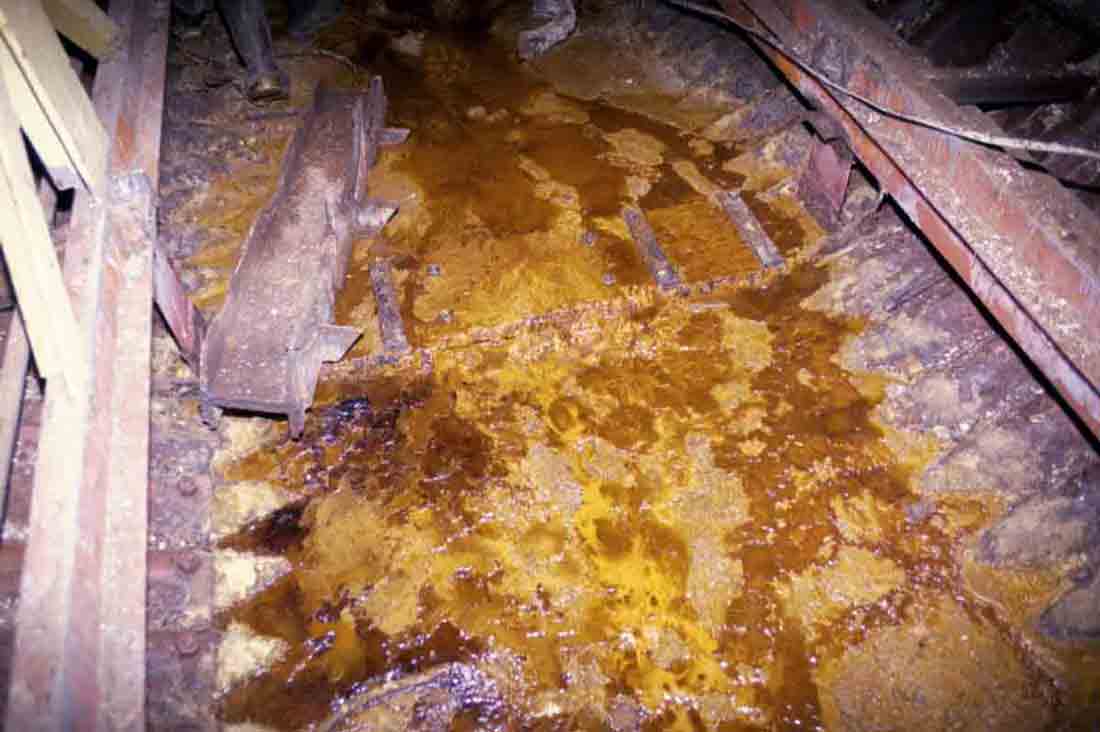 I call this "Missile Marmalade". It's a tasty combination of nasty water, rust, mud and God-knows-what. Spread some on toast today! $3.99 a jar. On sale now while supplies last! Free foreign material in every jar!
This section is a bit sparse at the moment, but I will be adding more pictures shortly. What you see above is just the first couple hundred feet of tunnel leading to the fuel terminal.

You can brave the nastiness and continue on to the fuel terminal, or flee back to T.J. #10 and check out a less-scuzzy area.

---

Main Tunnel Junction, Fuel Terminal, or Go To Main Map

---

| Contact | Site Map | Links |

Hosted by InfoBunker